Peter Smith, President
You will find him on skis –going uphill or downhill, on skinny or fat skis in the winter, paddling on Flagstaff Lake, hiking in the mountains or woods, and of course biking on the incredible mountain bike trails we are creating or on the roads. In addition to the incredible natural environment of the Western Mountains of Maine, is an equally remarkable community of people who choose to live an recreate in this area. Sometimes Pete will venture outside of Franklin County to kayak on the coast of Maine, visit family, or ski some powder snow in British Columbia- but he always finds his way home to Carrabassett Valley where he lives with his wife, Dawn, and their dog, Bailey Mae.
E-mail:
psmithconsult@roadrunner.com
Ed Gervais, Vice President
Yarmouth, Maine business owner and dedicated weekend resident of Carrabassett Valley, Ed embraced mountain biking as the best solution for chasing away nd-of-ski-season blues. In the winter you're as likely to find him touring the Sugarloaf backcountry as on the lifts. In the summer he's riding the local bike trails and participating as a volunteer trail builder.
E-mail:
ehgervais3@casconpump.com
Dana Friend, Treasurer
Dana started coming to Carrabassett Valley in the 60's with his father and brother to ski. He purchased a condo in the village in 1989 and began a long love affair with Carrabassett Valley and Sugarloaf. He moved here permanently in 2004, allowing his sons to experience their high school years in the Valley. Dana's long career in cost accounting and finance, including 23 years at G.H. Bass & Co. where he eventually held the position as International Controller, and four years at CVA s Director of Finance, has prepared him well for the challenges of the CRNEMBA Treasurer position he has served since 2013. Dana currently owns and operates a company that produces and retails handmade neckwear and he stays in touch with the local business community by providing accounting and finance services on a part time basis. "Prior to this past summer I was a casual mountain biker, but this past summer I have really embraced the sport from its natural beauty while riding to the excellent aerobic workout; it has been just a blast! Also the folks that you meet while mountain biking has been truly a great part of the experience for me."
E-mail:
dana@dhfriendneckwear.com
Lori Gerencer, Secretary
My love of biking began when I was a teenager.   I put many miles on my lime green Schwinn 10-speed.   Through the years I've completed eight Trek Across Maine rides. Most of my riding time now is spent on the mountain bike trails in Carrabassett Valley.  I cherish the outdoors and feel incredibly blessed to spend quality time with my family and friends – biking, skiing, and mountain climbing. I've met many nice people on the trails and on the slopes.  I'm happy to be a CRNEMBA volunteer. The positive vibes from the board members, volunteers and the mountain bike community were evident from day one.
Julie Coleman
I grew up in New Hampshire where my love of the mountains began. I did not discover mountain biking until I was 40 and my passion for the sport continues to grow. I live in Freeport, Maine but spend as much time as possible in Carrabassett Valley. The dedication of the CRNEMBA club has proven to be contagious, I am honored to be a part of it. Come on up and ride our trails where you will find me rippin' on my Niner!
E-mail:
juliecoleman@comcast.net
Warren Gerow
Growing up in New Brunswick, Canada, I always had a mountain bike; the first one being used to deliver newspapers through all four seasons. Focusing for many years on multi-sport races and trying to be fast on the road, the mountain bike was always the bike to grab when the goal was to have fun. Changing competitive gears, I switched to strictly racing mountain bikes about five years ago. There is no better place to log big training miles than Carrabassett Valley. I am greatful for the opportunity to join the CRNEMBA team to assist in shaping and growing mountain bike culture in the Carrabassett Region.
E-mail:
warren.gerow@gmail.com
Joe Hines
I grew up in Sebasco ME, we had lot of trail networks to ride growing up but no organization maintaining them. When I got out of hight school I became a white water raft guide and a MTB guide in norther Maine.That was when I realized there is a ton to do here in Maine, so I've been trying to do it all ever since. I'm all about getting as much fun in a day as I can. I'm pumped to be a part of CRNEMBA where we build the fun, then shred it.
E-mail:
bigairswim@gmail.com
David Hughes
David still remembers his first bike with a banana seat, monkey hanger handlebars and cards in the spokes; not exactly a mountain bike but it didn't keep him from riding it through the woods. David lives in Hampden, ME with his wife Shellie and two children (Audrey and Levi). Most weekends you will find him in Carrabassett, riding bikes, building trails, hiking, skiing, snow shoeing, or enjoying a swimming hole with his family. He still feels like a kid when on his bike and in the woods with his friends.
E-mail:
dhughes@carrabassettnemba.org
Cathy Morton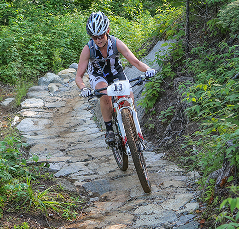 Cathy is from Farmington Maine and has been riding and racing bikes since 1995. She is a business owner in Farmington, supports a local race team, and is currently leading the women's rides in Carrabassett Valley. In addition to biking she loves to backcountry ski, coach ski racing on weekends, and spend time with her two kids. Since 1995, she has raced on several bike teams including an all women's team. She developed a passion for teaching women how to ride and enjoys instructing skill and bike maintenance clinics for women. She hopes to move to Carrabassett in the near future as she spends most of her time on the trail system biking and up on the mountain skiing.
Josh Tauses, Trails Manager
I have been riding bikes in the woods of Maine my entire life. I have also been fortunate to visit many of our country's top riding destinations over the years. This combination has helped develop a vision to create a world class destination trail network in Carrabassett Valley. Connecting with NEMBA, and the others on this page are seeing that vision coming to life. When not building or riding, I enjoy being as close to nature as possible. Weather hiking in deep woods off trail, learning a new bird call, or chasing huge bull moose around our trail network, I am constantly amazed at the natural world around us. I also enjoy music and dancing, cooking and eating, and model cars. Cheers, happy trails.
E-mail:
shuatauses@gmail.com
Kimberly Truskowski
live with intention. walk to the edge. listen hard. practice wellness. play with abandon. laugh. choose with no regret. continue to learn. appreciate your friends. do what you love. live as if this is all there is. ~ g.s.b.
E-mail:
loaflady@tdstelme.net
CRNEMBA and the Carrabassett Region mountain bike community thank our past board members:
Bob Ash
Jon Boehmer
Deb Bowker
Polly MacMichael
Glenn Morrell
Sarah Pine
Jesse Spicer
Matthew Swan
Alison Thayer
Barry Turcotte
Scott Waldron